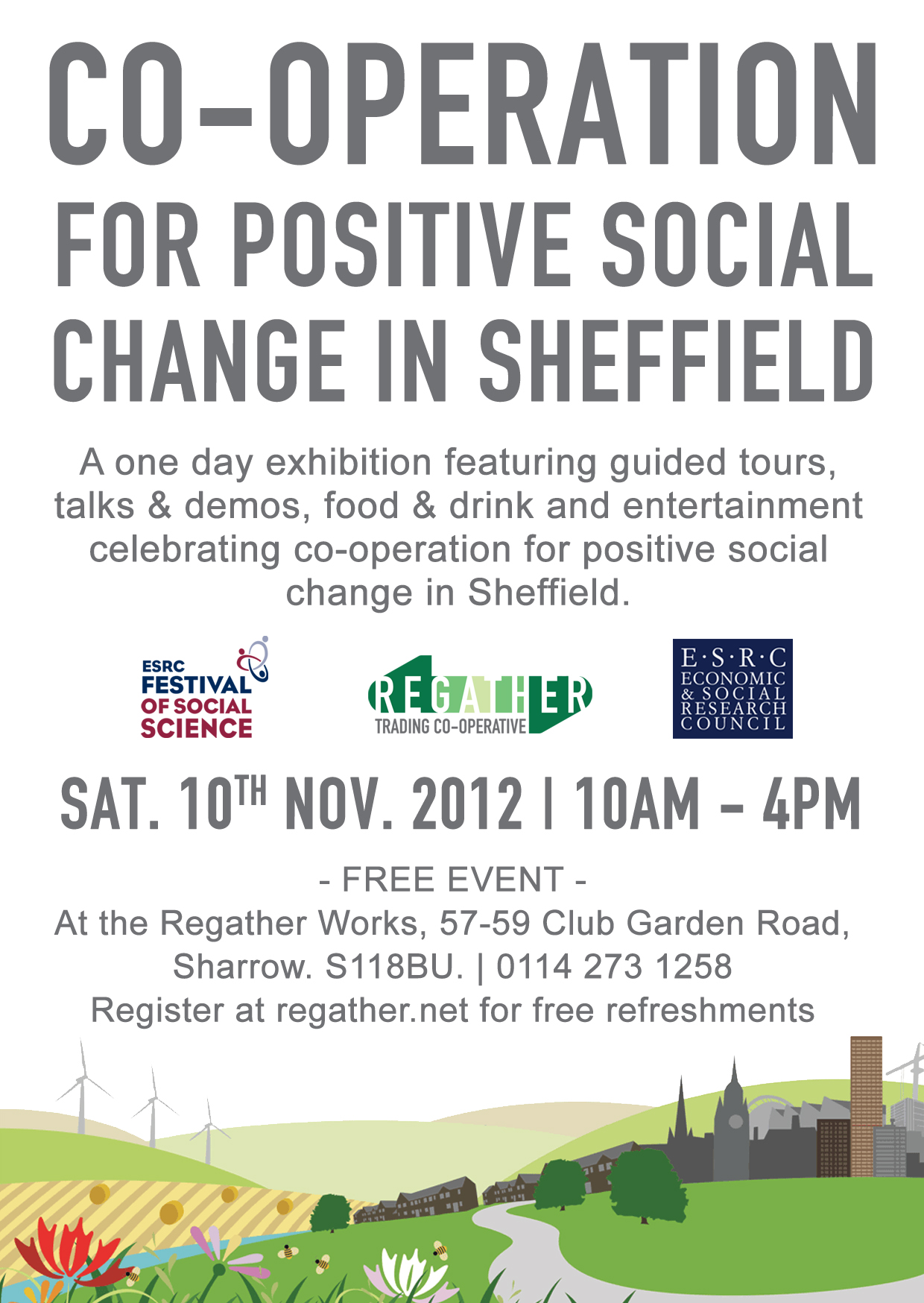 One day exhibition celebrating co-operation for positive social change in Sheffield – guided tours, presentations, workshops, food, drink and entertainment by Sheffield based co-ops at Regather Works – Community Centre for Co-operation in Sharrow,
Regather Works & The University of Sheffield School of Architecture: Live Project 3 – Post-graduate architecture students on Live Projects – pioneering educational initiative for students to work on real projects on 4 key themes – building, landscape, heritage and events. Student team members on hand to discuss their work.
Regather Kitchen:  Food & drink is an essential part of the Regather Co-Op. The kitchen will be working to bring you the following tasty dishes – butternut squash curry, beatroot soup and leek & lime soup, with bread from Cat Lane bakery. Yum
Regather Shop: Regather traders have been working with local builders to breathe new life into the Co-op's home – a listed building. We're delighted to throw open the doors to the newly refurbed Regather Shop.  Nearly every fixture and fitting has been re-used, recycled or re-made in some way – we hope you like it!
What is Regather?  The innovative trading co-op.
Day Trip to Co-Ops United: Reflections on a day trip to the world co-operative expo in Manchester.
Co-Ops – A Global Perspective: Get the facts on 1 billion member, 100 million employee, $1.1 trillion global co-operative movement.
What's in the Box? An insight into our local fruit & veg box scheme.
Exhibitors: Sheffield Renewables; Sheffield LETs,  Co-Operative Group, Sheffield Business School, School of Co-Operative and Social Enterprise, Ethical Consumer, sheffield.coop, Regather Invest, Peace in the Park, Bike Workshop